Hundreds of low-income f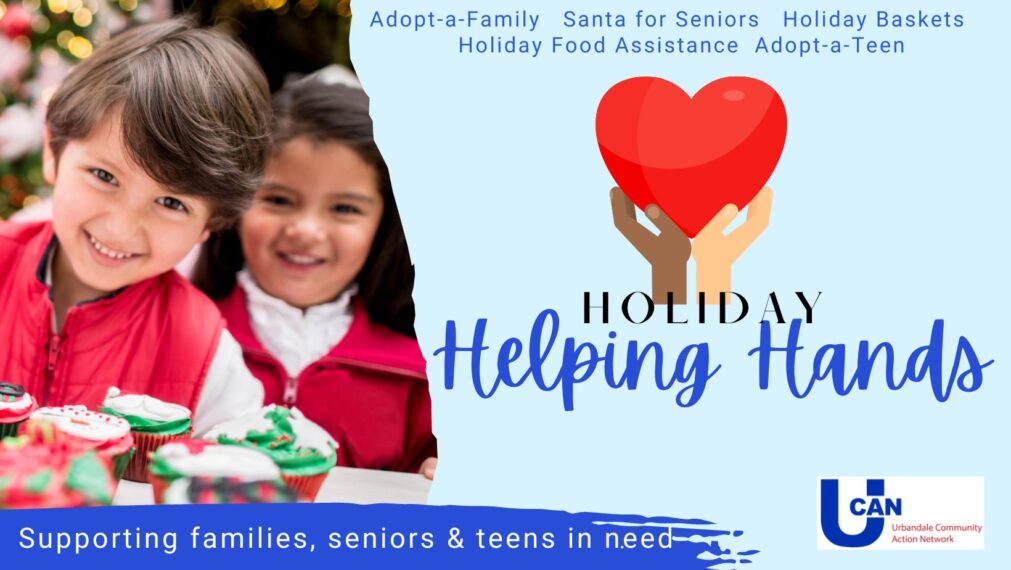 amilies in our community have difficulty meeting their day-to-day needs. During the holidays, finding resources for gifts and a special meal is out of reach for many of them. The Urbandale Community Action Network organizes 5 different programs for families and those in need during the holiday season. Below is information on how you and can get help bring hope this holiday season.
Adopt a Family – Families in need are matched with individuals or groups When you sign up to participate in the Adopt-a-Family program, you will purchase gifts suggested by each member of the family (approx. $50 per recipient) and food for a special holiday meal (or provide a gift card to cover the cost of such a meal). You can choose to deliver the items to the family, or we can coordinate a drop off using our volunteers. Families are registered in this program based on their income and needs. 
Holiday Baskets – Families who do not qualify for our Adopt a Family Program are invited to participate in this program which will provide one toy for each child and a warm winter outfit, hats & gloves and a food box or gift card for grocery store.  Gifts are only provided for the children.
At-Risk Teen Outreach – Working with the Metro West Alternative High School, we will match students in need with a sponsor. The sponsor will provide needed items (socks, shirts, hats, gloves) as well as items that teens would enjoy such as beauty products, gift cards, etc.
Santa for Seniors – Through UCAN's Senior programs, we identify those who are living in isolation, who have no relatives or very few nearby, and who have very limited contact with others.  Sponsors create a gift bag or box with cards, warm blankets, large print crossword or puzzle books, poinsettia or amaryllis plants, and provide holiday treats – for low-income seniors, we also provide a gift card for a grocery store or a special food box.
Christmas Food Assistance – For adults without children, a gift card to a local grocery store is provided to help supplement holiday food needs. Donations of gift cards in $25 increments are needed to support this program!
To sign up to help please contact UCAN at Info@UrbandaleNetwork.org or call 515-334-2684. Thank you!
Register to help a family, senior or teen in need below!