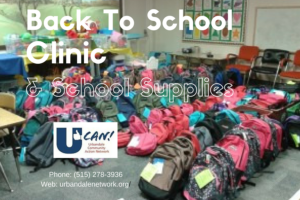 UCAN has partnered with Urbandale School District, Johnston Partnership for a Healthy Community, Johnston School District, and the Polk County Health Department to sponsor an annual immunization clinic. Typically immunizations, eye and dental exams, and school physicals are offered. Any child who participates in the health clinic, and in need, receives a backpack filled with school supplies for their appropriate grade.
The 2017 Immunization Clinic and School Supplies event will be held on Thursday, August 3rd, 2017 from 2:00 to 6:00 pm.
How to apply:
No application is required.  Kids attend the event to receive the health services and school supplies. The Back To School Clinic is typically held the first Thursday in August.
How to donate or volunteer:
Thank you to the many local business, churches, doctors, nurses and dental hygienists who volunteered their time and donated supplies this year.  If you are interested in volunteering or donating supples for UCAN's Back to School Clinic, please contact the office.