Aug. 12, 2015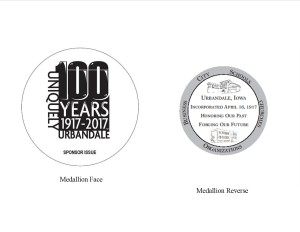 For a limited time, the Urbandale Centennial Committee is offering for sale highly collectible "Sponsor Issue" medallions that commemorate the city's 100th anniversary in 2017.
 The 300 "Sponsor Issue" medallions can be purchased only until Sept. 30, 2015. They will be stamped with a "Sponsor Issue" insignia and will cost $15 each. The funds generated by the sale of these "Sponsor Issue" medallions will help offset the production cost for additional versions of commemorative Centennial medallions that will be introduced for sale in the future.
"There are numerous ways residents can participate in the medallion program," said committee co-chair Scott Raecker. "In addition to the exclusive sponsor edition medallion we will have additional medallions limited in number as well as commemorative medallions that individuals and business may want to buy."
 For more information e-mail info@urbandalenetwork.org, or call 515-278-3936.
To order and purchase a medallion,  click here  Medallion order form
Centennial celebration to feature collectible medallions