Do you need assistance this holiday season?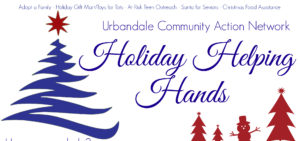 Urbandale residents are eligible to sign up for Basic Needs Baskets, Adopt-a-Family or Holiday Baskets.
If your household is at or below the range below, your can qualify for UCAN's Holiday Helping Hands Program. This program connects families in need with community partners & sponsors.
We cannot guarantee all requests will be met.
UCAN reserves the right to refuse service.  To request a coat, please contact your school.
Typical requests are clothing, household items, holiday items for children. This program is for families who live in Urbandale who are income restricted. Please see income guidelines below to determine if you qualify – if you make more than this per month, you are not eligible. Please include in your total income all working members of your home, state and federal benefits, SSI, etc. 
If your total household income is above the amount listed below, you are not eligible for our Adopt-a-Family Program, however you may qualify for a Holiday Basket. Please see information below. 
| | | | |
| --- | --- | --- | --- |
| Household size | Monthly Income | Household size | Monthly Income |
| 2 | $1436 | 6 | $2930 |
| 3 | $1810 | 7 | $3303 |
| 4 | $2183 | 8 | $3676 |
| 5 | $2556 | | |
You must email the following:
Proof of residency: lease, electric bill, water bill, document from school district
Proof of income: 30 days' pay stubs for all working members of the home, 2019 tax return, SSI Income statement, Iowa Workforce Development Unemployment statement, or completion of minimal income form
Valid ID for those in program: School ID, Free/Reduced lunch approval form with children's names, birth certificate, passport or drivers license from any country, Social Security card or Medical Card
Email Info@UrbandaleNetwork.org
Registration CLOSES Nov. 6. CALL 515-278-3936 with questions. 
UCAN Holiday Baskets will focus on providing one item per child in the family, along with a gift card for food for the family (depending on donations). The availability of this program and the eligibility requirements will be released after the registrations closes for Adopt-a -Family.