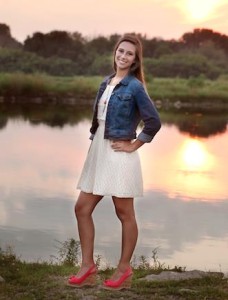 My name is Jessica Mueller, and I am a Senior at Urbandale High School. I have a sister, Kathryn, in 8th grade at the middle school. My mom, Eileen, is also at the middle school, she teaches 6th grade Special Education. My dad, Steve, works at Nationwide. Our family was recently selected to be on the cover of Urbandale Living. Though we may argue at times, we are very close.
 I will attend Wartburg College in Waverly, Iowa next fall. While there I will study either Biology or Biochemistry, I am not quite sure yet. After my undergraduate, I will attend a Medical School here in Iowa. I plan to stay in Iowa my whole life and have a career as a Medical Examiner.
 In my free time, I am most always at a school club, volunteering, or working. However, when I truly do have free time, I enjoy reading and spending time with friends and family. I am a very active person and love to run. I volunteer for my cross country coach, Mr. Davis; I help out with his 6th grade Running Club on Tuesdays and Thursdays in the spring. 
 Now for the whole reason I was asked to do this article, the volunteering. There are numerous reasons I enjoy doing it. One of the biggest reasons is that I actually feel like I am making a difference. A lot of the time when people see a tragedy they feel pity, but they do not think they can do any help. Well that is simply not the case. When I volunteer I feel like my life matters, that I am making a difference in the lives of others. I volunteer to show my sister that there is a reason for living and that is to show compassion for others. I cherish the look on the little kids' faces when I am helping them. The overwhelming joy I feel is the reason I volunteer.
December 2014 Spotlight Volunteer