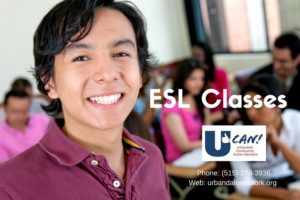 UCAN offers English as a Second Language classes. The beginner-level classes provide instruction in conversational English. The classes are offered once there are enough students registered to offer the class.
The next session of ESL Classes is scheduled for Tuesday evenings, March 28th – May 2nd, 2017 at Karen Acres Elementary School.
How to register:
Please contact the UCAN office to be placed on a list of interested students.
How to volunteer:
Volunteers are needed to assist with childcare for the adult learners participating in the classes. Please contact the UCAN office if you're interested in volunteering.