UCAN's Holiday Helping Hands Program will serve more than than 150 families in need this year. Many are in need of basic everyday needs. We are seeking help to provide a basic needs basket to families! '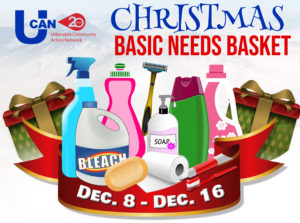 Can you help by sponsoring a complete basket? If so, please package all items listed below in a large box or laundry basket and drop off at the UCAN office.
OR select a few items from the list and we will package your donation up with others!
Laundry Supplies  Dishwashing Soap   Paper Towels   Household Cleaner   Toilet Paper   Shampoo/Conditioner Toothpaste/Brushes   Soap    Body Lotion   Razors    Feminine Products
Donations can be received at UCAN's Light Up Urbandale! event on Dec. 8th OR at the UCAN office, located at 4103 72nd St. the following times:
Tuesday Dec. 10th from 8:30 am – 2:30 pm
Thursday Dec. 12th from 8:30 am to 7:00 pm
Friday Dec. 13th from 8:30 am – 2:30 pm
Saturday Dec. 14th from 9am – noon
Monday Dec. 16th from 8:30 am to 5:00 pm
Please call the UCAN office at 515-278-3936 or email Info@Urbandalenetwork.org with questions!