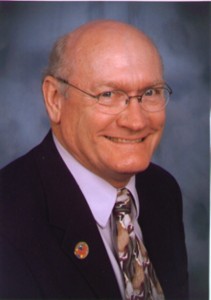 Bob, and his wife Marvel, moved to Urbandale just over 6 years ago. They moved here from the Monroe area, where Bob tells us he attended a one-room school house through the 8th grade, before going on to graduate from Monroe Community School and Iowa State University.
Bob's 40 year career as a writer included 18 years with the Wallaces Farmer magazine and 23 years as a freelance writer. His topics were mostly financial – income tax, estate planning and farm management.
The Kiwanis Club of Urbandale was fortunate when Bob moved to Urbandale. He has been active with Kiwanis for 25 years, serving in several leadership positions, including his role as the Nebraska-Iowa District Governor in 2004-2005. He says his most memorable experience was asking the Urbandale school nurses what they most needed that the budget wouldn't cover and then being able to deliver a $2,200 Vision Screening machine to them a month later!
Bob has been a driver for the Urbandale Caring Corps for just over a year. Other volunteer activities include transporting food from the DMARC food warehouse to the Urbandale Food Pantry, and delivering slightly used clothing to the Urbandale Clothes Closet. He has been very involved with numerous Kiwanis fundraising activities such as helping the Kiwanis International raise $75 million worldwide to eliminate Iodine Deficiency Disorders. With Bob's leadership, the Urbandale Kiwanis Club committed to raise $15,000 in a 5 year period to be given to the Kiwanis International goal of $120 million to eliminate Maternal and Neo-Natal Tetanus. The Urbandale Club met their goal is just under 4 years!
Bob is looking forward to new fundraising projects for the Urbandale Kiwanis Club, especially their participation in the fundraising plans to benefit a Miracle League Field in Urbandale.
Bob, you give your time and your talent and we hope you know how much it is appreciated
February/March Volunteer Spotlight