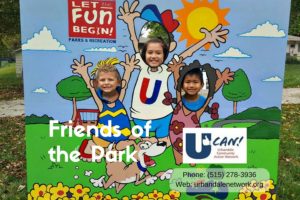 The Friends of the Parks Committee is dedicated to support the ongoing development of parks and recreation programs and facilities in Urbandale. Major accomplishments since the founding of the Committee in 2007 include the development of the Charles Gabus Memorial Tree Park and Gardens, the development of the Veteran's Memorial at the southeast end of the Memorial Tree Park and Gardens, the installation of the fountain at Lake View Park, periodic tours of Urbandale trails, and periodic clean-ups of various park and recreation areas.
Future priorities include supporting the development of other features and facilities withthe park system, such as the Walnut Creek Regional Park and the Paul and Jackaline Dunlap Arboretum.
Yard of the Month
Friends of the Parks also sponsors the annual Lawn of the Month contest from April through September.  If you would like to nominate a neighbor's lawn (or even your own) click below for the nomination form!
Urbandale Friends of the Park Yard of the Month nomination form
Ice Cream Socials
New in 2016, Friends of the Parks hosted several ice cream socials at various Urbandale parks.  The goal of the ice cream socials is to bring neighbors together, enjoy our beautiful parks and let them know how they can be more involved with maintaining and expanding park offerings.
Please be on the lookout for an Ice Cream social at a park near you!
How to volunteer or donate:
The Friends of the Parks committee is always seeking interested committee members.  Please contact the UCAN office to volunteer or donate to the Friends of the Parks.