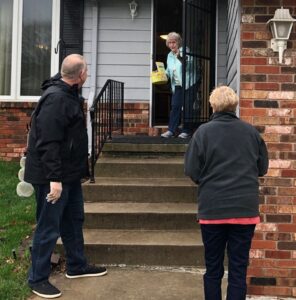 UCAN has been providing services for Seniors in Urbandale for 21 years – transportation, companionship, minor home repair, senior groups and more. This year, our Seniors have been hit very hard by the Coronavirus, and UCAN changed gears to provide support while many of our senior friends are isolating at home.
Volunteer with senior citizens
Delivery drivers –  Monday, Wednesday and Friday early afternoon. You will be dropping off supplies to an isolated senior in Urbandale. (Approx. time commitment 1 hours per day)
Grocery runs – we continue to provide specialized shopping for those seniors who are not comfortable with online ordering. Volunteers shop and drop off items at a seniors doorstep.
Phone Pals – many of our seniors are isolated and just want a friend to talk to! You will be matched with a senior and make weekly calls to talk and check to see if they are in need of any services. (Approx. time commitment 30 min per week)
Santa for Seniors – Our annual Holiday event is back for 2020, but with a little modification! We are collecting items for senior holiday baskets (large print puzzle books, hand lotion, holiday treats, fuzzy socks, amaryllis plants and more) and then will assemble and deliver to approximately 100 seniors in Urbandale. Can you help collect items and deliver baskets?
Email Info@UrbandaleNetwork.org if you can help with a donation or to sign up to deliver packages!