Laura Holms joined the UCAN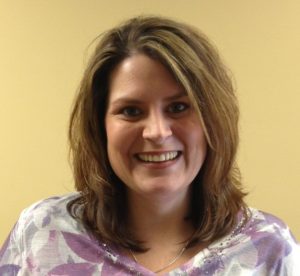 staff as the executive director in March of 2016. She has worked her entire career in non-profit work, most recently as the Executive Director for Amanda the Panda. She also served as the State Director for Best Buddies Iowa, Director of Development for Iowa Health Home Care and as Associate Director of Catholic Charities of the Diocese of Des Moines.
Aside from three years in Valley Junction, Laura has lived her entire life in Urbandale, and continues to be involved in St. Pius X School and Church, where she graduated from. When she was ready to have a family, there was no other option but to plant roots in Urbandale. She and her husband have three children who love their community and all the opportunities that living in Urbandale brings them.
Laura is excited to bring her experience in development and promotion to UCAN. "The UCAN model is so unique. We truly are neighbors helping neighbors to create a better community. Urbandale is still that small town that I grew up in where people care about each other and want to see the best for their neighborhoods. I am honored to join the great team of staff, board members and volunteers who have made so many positive impacts in Urbandale for so many years!"