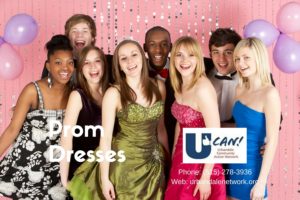 UCAN assists the Urbandale Closing Closet with gathering gently used prom dress donations for Urbandale high school students who otherwise may miss out on this special occasion. Prom dresses in all sizes from 0 to 30 are needed. Both new and gently-used, prom-appropriate dresses are welcomed.
UCAN's goal is to make sure that the lack of appropriate clothing does not prevent any Urbandale student from attending the prom.
How to apply:
If you have a child that is in need of a prom dress, please contact the Urbandale High School Clothing Closet
How to donate:
If you have a prom dress that you no longer need, don't let it hang in the back of your closet and gather dust for another day. Instead, donate it! As long as they are not tattered, dirty, or torn, they should be gleefully accepted. Dry clean the dress prior to sending it on its way. If you have any unopened makeup, unneeded jewelry, pretty purses, or gently-worn formal shoes, these items are also needed.
Prom dress donations are accepted at the Urbandale Clothing Closet at the High School.