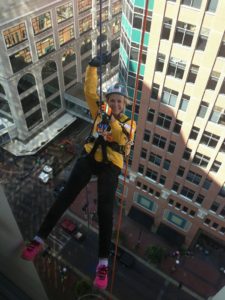 As you can see in her photo, Terri Steinke will do just about anything to support people with intellectual disabilities and raising money for them.  She's pictured going "over the edge" for Special Olympics and has been a board member of Best Buddies Iowa since its inception 12 years ago.  As a graphic designer, another of Terri's passions is the arts.  She currently serves on the Urbandale Public Art Committee and was appointed by Governor Branstad to the Iowa Arts Council.
Terri and her husband, Gary, who is the President of the Private Colleges and Universities Association, celebrated their 30th anniversary this year. They have two boys, both who graduated from Urbandale high school.  Terri is currently the Confidential Secretary to the Speaker of the Iowa House and owns her own graphic design studio Artworkstudio@msn.com. She's also worked at Meredith Corporation as a Project Manager, Pioneer Hi Bred, and has a BA in graphic design from Iowa State University.
As a long time Urbandale resident (24 years), Terri also wanted to become more involved in her community.  She recently joined the UCAN Board and is looking forward to getting to know more friends in the Urbandale community.