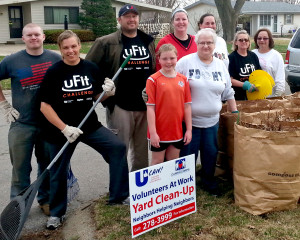 Seven uFit Challengers (and a daughter) took the opportunity to combine physical activity with community service on Saturday for the annual UCAN Spring Cleanup. Challengers spent more than two hours cleaning up a large yard–raking, mulching, and preparing garden beds for spring planting. One challenger even attached a window well cover and swept out the garage. Everyone worked hard and the Caring Corps
client was so grateful for the assistance. All told, our challengers put 19 bags of leaves on the curb and made a contribution to the community. We were so happy to see a great group of uFit Challengers also be a great group of volunteers!
Fifteen uFit Challengers continue to be an inspiration with their level of engagement. In just six weeks we have seen moments of well-deserved pride, the joys of learning something new, and a determination to meet their goals. We could not be happier with what we have seen from all five teams through the first six weeks and are excited to see how the next six unfold.
The uFit Challenge has reached the half way point and our Challengers are learning and experiencing new things each week. Challengers earn points by attending nutrition classes and events or achieving health and wellness milestones that enable them to earn rewards. Our Challengers have already earned Fitbit activity monitors and uFit water bottles. On the horizon are free group training sessions from Aspen, restaurant gift cards, and a team makeover provided by Iowa School of Beauty.
uFit Challengers take part in UCAN Spring Cleanup