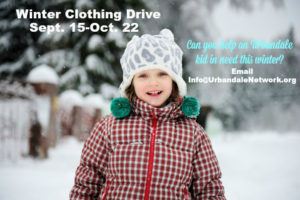 Each year, more than 300 Urbandale kids are in need of winter clothing.  Theses kids need your help to ensure they adequate winter gear!
You can make a difference by donating a new pair of boots or shoes, a pair of snowpants or winter hat/gloves!  Donate now through October 22th!
How to help:
Stop by the Urbandale Community Action Network office to pick up the ticket with the information about a child in need or email us at Info@UrbandaleNetwork.org. Then purchase the items and return to the UCAN office by October 22th, 2018, and we will get it out right away to the children in need.  If you would like to donate, but don't want to purchase the items, we will take your contribution and purchase the item for you.
UCAN Office is located at 4103 72nd Street, Urbandale (Lions Park Shelter).  The office is open Monday through Friday 9:00 am to 1:00 pm; afternoon and evening hours often vary so please call ahead!
If you are interested in donating to the Winter Clothing program, please contact the UCAN office at (515) 278-3936 or info@urbandalenetwork.org.