Do you need assistance this holiday season?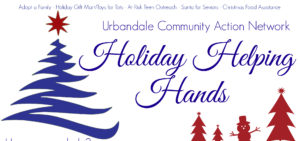 Urbandale residents are eligible to sign up for Adopt-a-Family, Holiday GiftMart or Food Assistance; there is no residency requirement for Toys for Tots
How to apply:
YOU MUST BRING:
Identification for ALL members of house (picture or school id, medical card, birth cert., etc.)
Proof of residence (current utility bill, lease or rent receipt, etc.)
Proof of eligibility (current Free & Reduced Lunch waiver, LIHEAP verification or two pay stubs)
Sign up Dates:
Nov. 7th noon – 7 pm
Nov. 8th from 3pm- 8pm
Lions Park Shelter – 4103 72nd Street
Please contact the UCAN office at  (515) 278-3936 if you have additional questions.
How to donate:
If you are interested in donating to the Adopt A Family program, please contact the UCAN office at (515) 278-3936 or info@urbandalenetwork.org.
The UCAN Office is located at 4103 72nd Street, Urbandale (Lions Park Shelter).  The office is open Monday through Friday 9:00 am to 1:00 pm.

U.S. Marine Corps Reserve Toys for Tots Program
UCAN partners with the Marine Toys for Tots Foundation to provide toys to area kids in need.