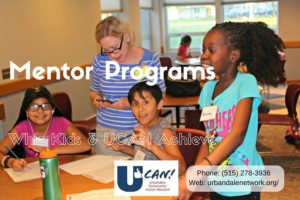 UCAN's mentor programs Whiz Kids and UCAN Achieve are provided through partnerships with Aldersgate United Mehodist Church and the Urbandale Community School District.  UCAN provides weekly afterschool programming for youth in grades Kindergarten through 8th Grade. Programs include those that focus on homework assistance, recreational activities and mentoring.
Whiz Kids:
Meets each Monday school is in session at Aldersgate Church. Mentors can arrive as early as 3:45 to interact with kids just out of school. The youth, in grades 1-5, enjoy some fund time before they have a structured lesson, followed by dinner and home work help before they leave for home at 6pm. Mentors are not required to be at the program at 3:45, many arrive around 5pm, enjoy dinner with their mentee and then on to home work help!
UCAN Achieve:
We meet each Tuesday school is in session at the Urbandale Middle School. Student in grades 6-8 arrive at after the last bell at 3:05 for snacks and down town, before hitting the books with their tutors at 3:30. Help is provided in all subjects. New for 2018/19 is an assistance program for English Language Learners! Tutoring time is over at 4:45. Students eligible for bus riding will be transported home via Urbandale School Busses.

How to apply:
If you would like to enroll your child in either the Whiz Kids or UCAN Achieve mentor programs please contact the UCAN office.
 How to volunteer:
UCAN is in need of mentors to provide homework assistance; groups that will provide guidance or lead a recreational activity; and organizations that can provide a meal for the kids.  If you have a group that would be interested in assisting with a mentoring program, please contact the UCAN office at 515-278-3936 or email Info@UrbandaleNetwork.org