Mobile Food & Supply Distribution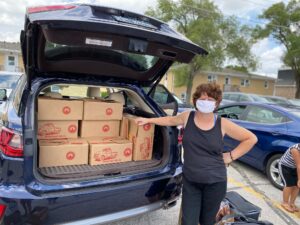 When COVID-19 hit Iowa, UCAN's team of volunteers jumped straight into action to support those families and individuals who lost employment, were sick and needed our help.  With 3 teams of volunteers distributing food and supplies to those most in need in across Urbandale, more than 1800 individuals received support on a weekly basis.
Today, that support continues and now is a permanent program of UCAN. Working as a mobile pantry site with the Food Bank of Iowa, we continue to serve 3 neighborhoods in Urbandale, as well as a school pantry and senior pantry delivery.  We need your help to ensure residents in need can have access to emergency supplies.
Sign up here! >>>Mobile Food Pantry Volunteer Opportunities
Please contact us to volunteer for the programs below.
Senior distribution volunteers –  Monday, Wednesday and Friday mid-day distribute food to seniors in need. You will be dropping off supplies to an isolated senior in Urbandale. (Approx. time commitment 1 1/2 hours per day)
Please email Info@UrbandaleNetwork.org or contact us at 515-334-2684 to learn more!