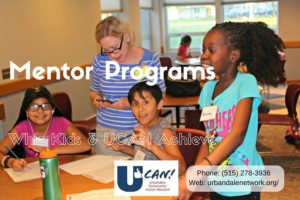 UCAN's mentor programs Whiz Kids and UCAN Achieve are provided through partnerships with Aldersgate United Mehodist Church and the Urbandale Community School District.  UCAN provides weekly afterschool programming for youth in grades Kindergarten through 8th Grade. Programs include those that focus on homework assistance, recreational activities and mentoring.

How to apply:
If you would like to enroll your child in either the Whiz Kids or UCAN Achieve mentor programs please contact the UCAN office.
 How to volunteer:
UCAN is in need of mentors to provide homework assistance; groups that will provide guidance or lead a recreational activity; and organizations that can provide a meal for the kids.  If you have a group that would be interested in assisting with a mentoring program, please contact the UCAN office.