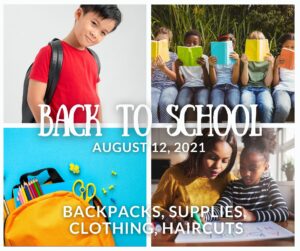 UCAN & our friends want to make "Back to School" easier for kids & families in need in Urbandale!
Families in need, bring your kids to pick up school supplies, register for Free & Reduced Lunch & sign up for UCAN's winter clothing assistance! Supplies available to Urbandale residents & Urbandale School District students.
If you have registered with UCAN within the past year, please  REGISTER HERE!
New households: if you have not completed a registration form with UCAN before July 1, 2020, please contact us at Info@UrbandaleNetwork.org or call 515-278-3936 to schedule an appointment.
You will be asked to provide documentation – your application is not complete until these documents have been submitted. All information requested on this application must be provided in order to be eligible for assistance:
Photo IDs for all adults in the household and identification for all children (birth certificate, insurance card, or school ID)
Proof of Urbandale residence. Must provide current address verification (e.g., current utility bill)
Income limits apply.  Total household income must be 175% or less of the federal poverty guidelines to qualify. Must provide income verification for all household members (past 30 days OR 2020 tax return).
Quantities & choices may be limited.
Please contact UCAN with questions at 515-278-3936 or email Info@UrbandaleNetwork.org