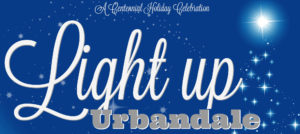 Join UCAN, the City of Urbandale and the Urbandale Historical Society for a Centennial Holiday Celebration! Tour the Olmsted House decorated for the holiday's, take a free family holiday photo and tour the candy cane walk. Enjoy Urbandale choirs singing holiday songs in Spanish, Bosnian and English to represent the many cultures of Urbandale. All activities are free!
PLUS, We are bringing an old Urbandale, Iowa tradition back! We want to Light Up Urbandale on Dec. 11 with luminaries. A set of 20 bags, candles and sand will be available for $10. Email 2017@Urbandalenetwork.org for an order form or ORDER HERE ONLINE!
You can order luminaries by emailing 2017@Urbandalenetwork.org or become a Neighborhood Captain to organize your neighborhood! Our Neighborhood Captains will receive a wonderful gift and an opportunity to win some great prizes! Pick up luminaries on December 4 at the Olmsted House and light up your neighborhood on December 11!
December 4, 2016
Olmsted House | 4010 70th St. | Urbandale, Iowa
Tour the historic Olmsted House 2-4:45 pm
Free family photos at our holiday wagon 2-4:45pm
Kid's activities 3:30-4:45 pm
Enjoy performances from local Urbandale choirs their native languages 3-5pm
Cookies & Cocoa
Official Urbandale Centennial Holiday Tree Lighting at 5pm
Pick up Luminaries to Light Up Urbandale on December 11