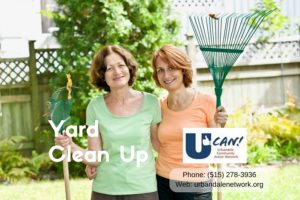 Each fall (October/November) and spring (March/April), UCAN sends volunteer groups to the homes of local seniors and persons with disabilities to help with raking, trimming hedges and planting.
This activity provides a valuable service to our older neighbors! Many of the seniors you are helping are not able to maintain the outside of their homes for themselves. Their yards would otherwise become slippery and dangerous to walk on, as well as an eyesore to look at. By assisting with a senior's yard clean up, you will be helping them to enjoy their home and live independently!
How to apply:
Simply fill out the application available online, or call the office at (515) 278-3999 to request that an application be mailed to you. Once you have completed and returned the application, a UCAN staff member or volunteer will contact you.
How to volunteer:
To volunteer to do yard clean up for seniors, please contact the UCAN office.
Please note this is a one-time activity. You are not responsible for the ongoing maintenance of the assigned senior's yard.